hardcorevideo.me
The Web's First Japanese Pizza Page
As far as I can tell, this is the web's first page dedicated to introducing the world to Japanese pizza which, in some guises, is truly an abomination for mankind. But I won't make any further value judgments here and simply describe the pizzas that are selling at Pizza Studio, an establishment in my neighborhood in Setagaya, Tokyo.
| Excellent | Seafood Special | The Prime |
| --- | --- | --- |
| "With Luxurious Toppings, this is the Definitive Mixed Pizza!" | "Crab, Scallops, and More -- Full of Sea Goodness!" | "Pizza Studio's Most Popular!" |
| Toppings: Pepperoni, Chopped Beef, Bacon, Mushroom, Eggplant, Tomato, Green Pepper, Garlic, Shimeji Mushroom, Onion | Toppings: Shrimp, Squid, Octopus, Clam, Scallops, Crab Legs | Toppings: Pepperoni, Chopped Beef, Bacon, Mushroom, Green Pepper, Onion |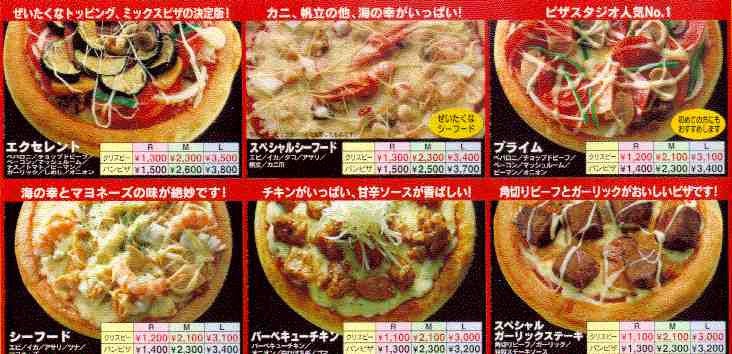 | Seafood | Barbecue Chicken | Garlic Steak Special |
| --- | --- | --- |
| "Ideal Taste of Sea Goodness and Mayonnaise!" | "Heaped with Chicken plus a Savory, Sweet Barbecue Sauce!" | "Delicious Pizza of Cubed Steak and Garlic!" |
| Toppings: Shrimp, Squid, Tuna, Mayonnaise | Toppings: BBQ Chicken, Onion, Shredded Green Onion, Sesame Seeds | Toppings: Cubed Beef, Garlic, Special Steak Sauce |
---
| Mexican Salad | Japanese Style | The Nordic |
| --- | --- | --- |
| "Spicy Mexican Pork, Fresh Lettuce and Tomato -- Very Popular!" | "The Flavor of Seaweed and Shiso Makes it All the Better!" | "Check Out the Anchovy Flavor!" |
| Toppings: Fresh Lettuce, Tomato, Mexican Pork | Toppings: Shredded Pork, Shimeji Mushrooms, Bamboo Shoots, Nori (seaweed), Shiso (perilla) Leaves | Toppings: Bacon, Anchovies, Tuna, Onion |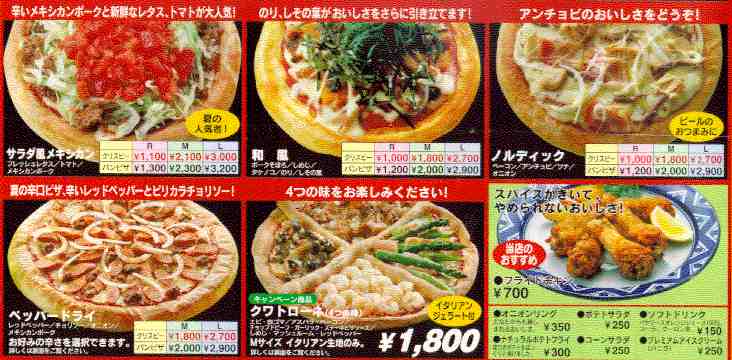 | Pepper Dry | The Quattro | |
| --- | --- | --- |
| "Spicy Summer Pizza with Red Pepper and Spicy Sausage!" | "Enjoy Four Flavors!" | |
| Toppings: Red Pepper, Spicy Sausage, Onion, Mexican Pork | Toppings: Shrimp, White Sesame/ Asparagus, Bacon/ Chopped Beef, Garlic, Steak Sauce/ Shimeji Mushrooms, Mushrooms, Red Pepper | |
---
Actually probably the most common pizza topping in Japan is sweet corn. I'm not sure why none of these pizzas have it, perhaps Pizza Studio was trying to get away from the "usual." It's weird at first but it's really not bad if you like veggies. Also not pictured but not unusual in Japan are pizzas with a potato/mayonnaise theme (often called The Idaho Special ). Another common pizza topping here which I can't find in my hometown pizza parlors are slices of boiled egg.

Of course, no intro to Japanese pizza would be complete without mention of the Squid Ink Pizza. In these pizzas (and pastas) the tomato sauce is replaced with a black-as-sin squid ink sauce. To be honest, squid ink sauce doesn't taste all that bad but tomato sauce is ten times better. Plus squid ink looks terrible & stains your mouth black, so I have never found a reason to eat more than a spoonful of the stuff.
---
What? You haven't seen enough of Japanese pizza? Well then take a look at page two.
---
---
---
---
Recognition this Page has Received
---