Well, this blog entry is just an excuse to post this picture I found. Always nice to see girls in wet t-shirts (or sari) having fun.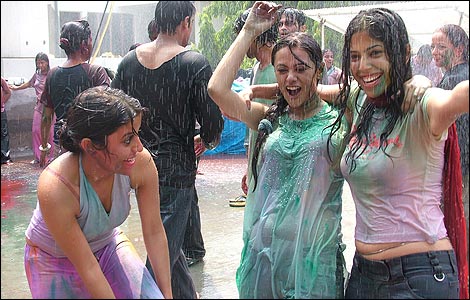 Setting a new trend in Holi enjoyment, Radhika Kumar and Mona Wasu surprised on lookers as they danced to popular Bollywood soundtracks including, "Holi ke din dil khil jaate hai", "Rang barse", "Aayee re aayee re holi" and "Rang de basanti".
Here's more about this festival from asiarooms.com:
Holi is a major festival in Mumbai and is celebrated with great enthusiasm. It is usually celebrated in the month of March i.e. Phalgun. Holi festival is an indication of summer. People from all religions, caste and creeds come together and celebrate this festival. This festival strengthens our culture of secularism. That is why this festival is regarded as the friendliest festival. It is a fun-filled festival. It is indeed a colorful festival. People throw colored water, sing, and dance during this festival. People generally wear disposable clothes when they are playing Holi...
...Even Bollywood celebrities play with color during this festival. The color, gaiety and joy associated with this Holi festival change the lives of many in Mumbai. The Holi Festival of Mumbai brings happiness, prosperity and peace to everyone. On this occasion people in Mumbai send sweets, gift articles to each other. During this festival people of Mumbai wipe colors and spray water on each other. Holi gives a break from hectic life of Mumbai. The Mumbai Holi festival is a chance to renew love, to recharge your energy.An atmosphere of oneness prevails in Mumbai during this colorful Holi festival.