Chotiros Suriyawong, an actress in Thailand caused scandal by wearing a revealing dress to an awards ceremony. As the article below notes, it's highly ironic given the infamous nature of Thailand's entertainment districts. I got to peek into some establishments from the streets in Bangkok and Phuket when I was there 15 years ago. I didn't enter any, though. Really. (No, Really... I was with my girlfriend at the time.)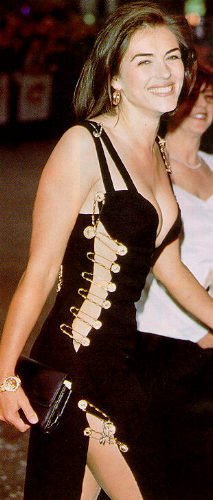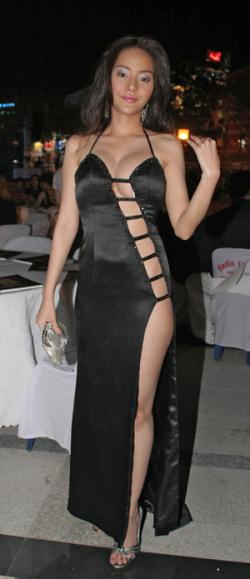 Wearing a revealing dress may guarantee an actress column inches, but in Thailand it can also leave her sentenced to community service and with her career in ruins.
Chotiros Suriyawong, a 22-year-old actress better known by her stage name of Amy, has been publicly vilified after she dared to turn up to Thailand's version of the Oscars ceremony in a dress modelled on Elizabeth Hurley's well-known safety-pin number.
She has been sacked from the cast of a film in which she was due to appear and ordered by her university to make a public apology and to do 15 days of community service by reading to the blind.
It's a far cry from Thailand's more usual image...But this is Thailand under the rule of the generals, who seized power in September. Ms Suriyawong has found herself on the receiving end of a morality drive launched by the authorities.
The dress she wore to the Golden Swan awards had a three-inch wide slit from the hips to the [front]. It was conservative compared to the outfits that young Thai women wear in the tourist bars of Phuket or Bangkok's Khaosan district. But it was too much for Suraphol Nitikraipot, rector of Bangkok's Thammasat University, where Ms Suriyawong is a student. "Society feels this is a disgrace and that her actions have affected the reputation of this university," he said.
Ms Suriyawong was reportedly forced to demonstrate to the university that the dress had specially sewn-in underwear.
The university was not acting in isolation. It was prodded by the military junta. The Culture Ministry weighed in, describing the dress as "inappropriate".
One of Thailand's leading studios sacked Ms Suriyawong from the cast of Suai Samurai. She sobbed at a press conference where she was forced to apologise. "If I'd known it would have been so controversial, I wouldn't have done it," she said, adding that she had worn the dress to get media attention but got more than she had bargained for.
Thailand is in the middle of a morality crackdown. Police in Bangkok enforced a 10pm curfew for teenagers on Valentine's Day and were under orders to prevent under-18s from kissing in public.
It all sits oddly with the anything-goes attitudes in the tourist resorts, but analysts say a crackdown will appeal to the conservative middle classes...
Source: news.independent.co.uk.